UECC's dual fuel LNG pure car and truck carrier (PCTC), AUTO ENERGY, receives the Greenports Award 2019 from Bremenports
UECC's M/V AUTO ENERGY, has been awarded the Greenports Award 2019 by Bremenports.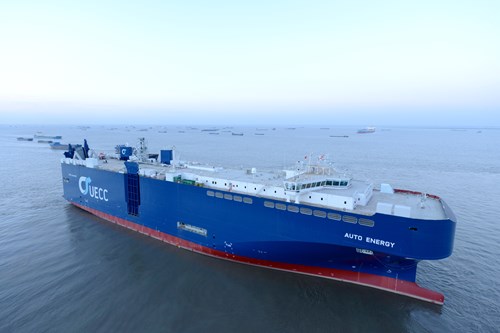 M/V ENERGY (photo by UECC)
The Greenports Awards for the most eco-friendly vessel was presented to the Auto Energy when she called at Bremerhaven on the 1st of September. Robert Howe, Managing Director of Bremenports, presented the certificate to the M/V AUTO ENERGY's Captain, Krzysztof Jan Buczkowski and UECC's Head of Shipmanagement and Newbuilding, Jan Thore Foss on board the vessel on the 1st of September. The Greenports Award 2019 to the AUTO ENERGY was announced at the Sustainable Shipping 2019 conference in Bremen on the 24th of September, where UECC's Director of Sales & Marketing, Bjorn Svenningsen, represented UECC.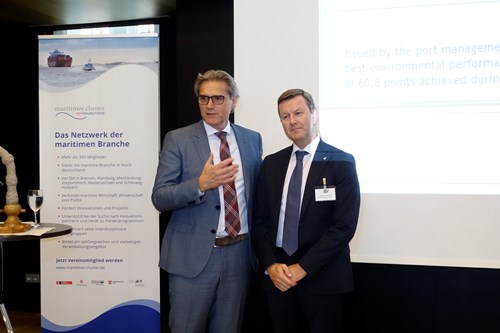 Mr. Howe and Mr. Svenningsen at the Sustainable Shipping Conference 2019 (photo by MCN. e.V.)
During the award ceremony, Bremenports Managing Director Robert Howe stated "AUTO ENERGY has eco-friendly LNG propulsion, which earned her the Greenports Award 2019. With an average ESI (Environmental Ship Index) score of 60.8, the car carrier won first place, ahead of her sister ship AUTO ECO which had a score of 58.1.". Mr. Howe further stressed that the overall trend in shipping is definitely positive and stated "During the last six months alone, the share of vessels reporting an ESI rose by just under seven per cent. This means that a total of 7731 vessels worldwide now have lower emissions, thus outperforming the environmental limits prescribed by the International Maritime Organisation. In view of the urgency of the climate challenges, it is essential that this trend continues to pick up speed. The target has to be zero-emissions shipping".
UECC's Bjorn Svenningen thanked Bremeports for awarding the Greenports Award 2019 to the M/V AUTO ENERGY, and the owners of UECC, NYK and Wallenius Lines, for their support in making such a substantial sustainable shipping investment his possible. UECC's CEO, Glenn Edvardsen, who unfortunately could not attend the Sustainable Shipping Conference 2019 in Bremen, has later stated "this is a great achievement when considering the numbers of vessels calling the port of Bremerhaven and a nice recognition of UECC's past investment in environmentally friendly vessels. UECC's future generation of even more environmentally friendly vessels has already been ordered and a series of Battery Hybrid LNG Solution vessels will be delivered to UECC in 2021. UECC has again taken leadership, and responded to future environmental regulations and market demands, with technological innovation, quality and sustainability and we will continue to do so. Furthermore, we will exceed current and future environmental regulations".